In early June 2011 the WCIV hosted a group of IVLP guests from Albania. An emerging democracy, Albania was freed from communism in 1989. It is the home of Mother Teresa, it has ski resorts, AND Mediterranean shorelines.
If anyone wants a to visit a NEW Balkan,
Albania sounds like the place!
Here to examine Small Business Development in the US, this group benefited from our local expertise of operating businesses while embracing our natural resources. Our mountains are the equivalent to their oceans! Although it remained a bit chilly, they certainly shared with our community the appeal of a Mediterranean lifestyle! The invited guests visiting Jackson were:
Ms Matilda Naco, the Executive Director of Albanian Tourism Association;
Mr Autur Papajani, Albanian General Directorate for Taxation, and
Mr Bardhyl Sejdarasi, Director of BiznesAlbania
Thanks to the following local partners who provided a perspective in their relative areas of expertise:
Wyoming Rural Development, Mary Randolph provides a state perspective on rural business development, community needs, and opportunities. Mary has been kind enough to include our community in her travels around the state. They guests appreciate her well-organized presentation on Wyoming.
Jackson Hole Chamber of Commerce, Tim and Rick provide insight and perspective on the business associations related to tourism and regional marketing.
Jackson Hole Mountain Resort, Jerry Blann, John Bishop, and Niall Bouzon. The JHMR staff talked about their web-presence and green business practices. JHMR accompanied the group up the tram for an experience the Albanian guests will surely never forget!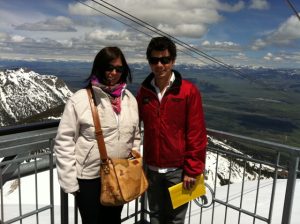 Spring Creek Ranch
, Stephen Price shared perspectives as a business owner, and member of the newly found Tourism Board. They were very interested in the development of such a board and with a tax person in attendance (Artur was previously in the Ministry of Albanian Taxation) there were many questions. Spring Creek Ranch also graciously hosted the group for a delicious lunch at the Granary. As we watched a thick dark cloud blow across the valley, the group was also quite impressed with our radical weather conditions.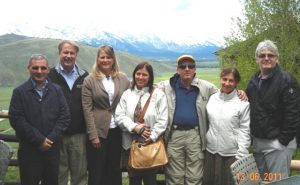 Rendezvous River Sports
, Aaron Pruzan provided a synopsis of his business, and of the evolution of the Snake River Fund. Describing the  public/private partnerships that manages the user fees, and protects the recreational resources and user services.
The Teton County 4H Youth Entrepreneur Program with Kelly Kilpatrick and the kids discussing the development of business plans and accounting for livestock projects.
The Trauner Family. Gary and Terry hosted an amazing dinner at their home for all the guests and a few locals. THANK YOU!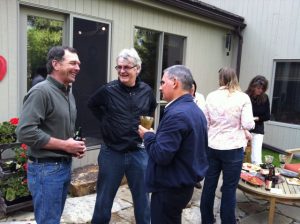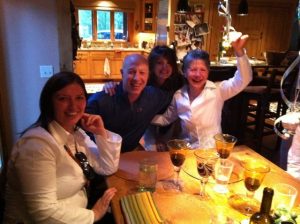 The WCIV is proud to connect Wyoming with the World!